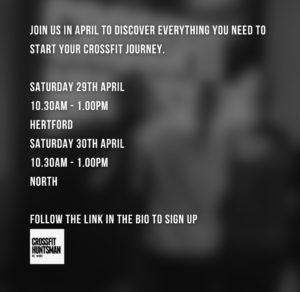 Join us in April to discover everything you need to start your CrossFit Journey.
SATURDAY 29TH APRIL
HERTFORD
10:30am – 1:00pm
SUNDAY 30TH APRIL
BISHOP'S STORTFORD
10:30AM – 1:00pm
The Induction Day is to prepare you to enter the Crossfit classes knowing that you can confidently carry out movements safely and efficiently. We will introduce you to the CrossFit Methodology and the Fundamental movements used in CrossFit.
Throughout the Induction you will be coached by our professional team with over 15 years experience. From the beginning to the end of your Induction we guarantee you will see improvements to your performance.
Upon completion of the Induction Day you are welcome to join any of the classes we have to offer with your new membership.
The Induction Day is charged at a fee of £75, which includes a month's membership. Following your first month you also receive a £25 discount on Unlimited membership.
Start your CrossFit journey today and sign up for your Induction Day.
BE.MORE